H-313 Pendulum Pedometer
Three function pedometer (a clamshell design, easy compact)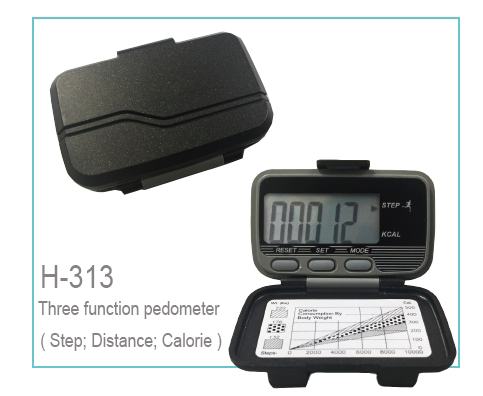 SPECIFICATION:
Size: 5.5x 3.5 x 2.0 cm (L x W x H)
Weight: 22gram (including battery)
Power Supply: 1pc 1.5 V DC L-1131 battery
Battery life: 1 year
Material: ABS
Safety/Quality Approvals:
CE/ISO 9001/ISO 14001
Packing:
Each in giftbox, 100pcs/Ctn
G.W.: 6.0kgs, M.M.: 1.50cft. Origin: TAIWAN
Features:
1. High accuracy: No matter it's tracking steps or distance travelled, the accuracy reaches 98% while walking and 99% while running.
2. Low power consumption: The battery life can last for more than one year.
3. Elegant design: It can be conveniently clipped it to the belt, making it easy to read.
4. Three functions: step counter, distance counter and calorie counter.
5. Step Counter: counts steps taken up to 99999.
Distance Counter: counts distance covered up to 999.99km.
Calorie Counter: counts calorie burned up to 99999kcal.
6. The device remains in standby mode until 5 continuous steps are registered, so the counting will be
more accurate.
7. LCD will automatically shut down when no input is sensed within four minutes to save battery life.
8. With the function of converting metric and imperial units.
**H-313 come in Gold dot black, black or white color.
**Customer colors are available with a minumum order of 3000 units.
**(Spring clip / One-piece clip) are selectable by manufacturing option
---