H-216 MVPA fitness system Pedometer
With its built-in MVPA timer, the H-216 monitors your walking and calculates the time you
spend doing moderate to vigorous activity.
It even measures bouts of uninterrupted aerobic activity with its MVPA time filter.
Know exacttly how much of your walking is spent in that key aerobic zone with H-216's
---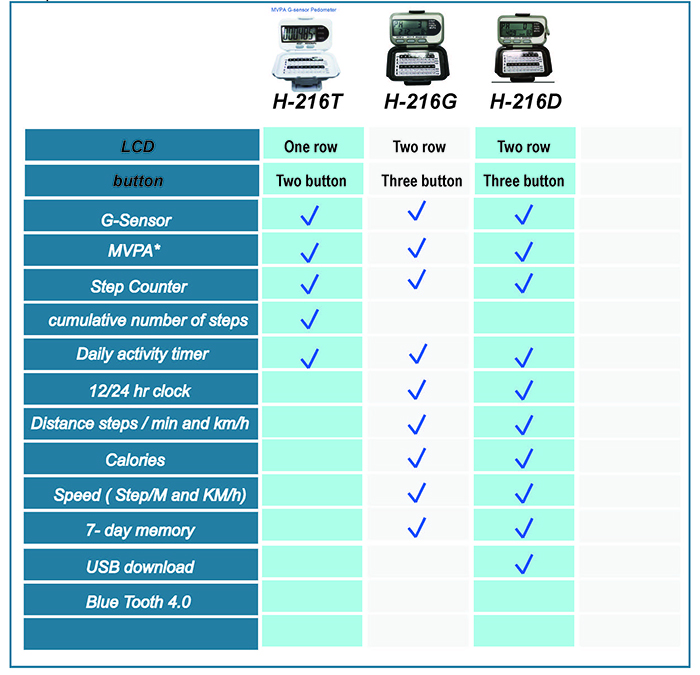 **H-216G and H-216D have a customizable MVPA threshold and time filter.
**H-216T has a preset MVPA threshold of 110 SPM and a preset MVPA time filter of 0.
**H-216T, H-216G, and H-216D come in black or white.
**Customer colors are available with a minumum order of 3000 units.

Our exclusive H-216 pedometer features our new MVPA fitness system which measures minutes of
Moderate to Vigorous Physical Activity (MVPA), so, any walker/jogger can easily read how much of
their daily activity time was active enough to become a true health benefit. Simple to use, this
feature aligns perfectly with the latest madical recommendations: are you getting at least 60 minutes
Every H-216 pedometer features a large, easy-to-read digital display that measures steps and total
daily activity time. Plus, our new advanced G-sensor technology ensures accurate measurement
wherever you wear your H-216 - on a lanyard, in a pocket or in a bag.
Set your own MVPA threshold*
Personalize your MVPA zone based on your fitness level.
Accumulate time on the MVPA counter only when you move at a speed over your selected
steps-per-minute(SPM) threshold.
SPM levels can be adjusted from 90 to 160 SPM in increments of 5.
Set your own MVPA time filter to record bouts of continuous activity. *
Measure only continuous bouts of MVPA time to ensure you accumulate the full benefits of aerobic
Accumulate time on the MVPA timer only if your moderate to vigorous physical activity exceeds your
The MVPA time filter can be set from 0 to 15 minutes at 1 minute intervals.
Measure how much of your walking time is spent in your ultimate fitness zone with H-216.
---