Model: H-311 Pendulum Pedometer
Simple function pedometer (a clamshell design, easy compact)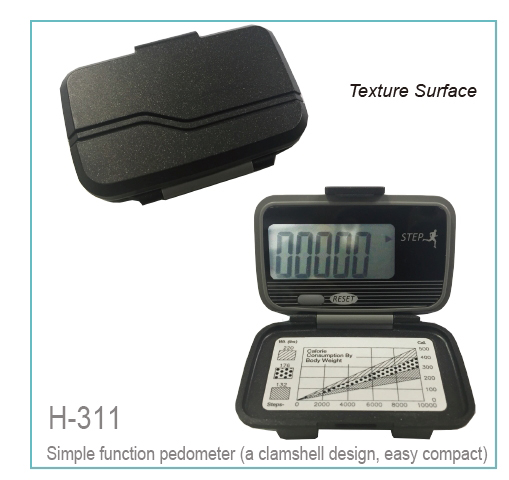 1. Step Counter: counts steps taken up to 99999.
2. Easy-to-read jumbo LCD screen.
3. Single button operation.
4. Elegant design: It can be conveniently clipped to the belt, making it easy to read.
5. The device remains in standby mode until 5 continuous steps are registered, so the
counting will be more accurate.
6. Low power consumption: The battery life can last for more than one year.
SPECIFICATION:
Size:
5.5x 3.5 x 2.0 cm (L x W x H)
Weight:
22gram (including battery)
Power Supply:
1pc 1.5 V DC L-1131 battery
Safety/Quality Approvals:
CE/ISO 9001/ISO 14001
Each in giftbox, 100pcs/Ctn
G.W.: 6.0kgs, M.M.: 1.50cft.
**H-311 come in Gold dot black, black or white color.
**Customer colors are available with a minumum order of 3000 units.
---
---